Ling Gui School of Qigong
Celebrating 32 years of Qigong Teachers' Training
with over 50,000 Qigong teachers certified
Acupuncturists/Chinese Medicine Practitioners
Some Courses Approved & Pending
for PDAs through NCCAOM!
We welcome your interest in Qigong! Whether you are a beginner just learning to pronounce the word Qigong or a long time practitioner of energy work, we hope that you will find the information on this site helpful. Please take your time to read about the benefits of regular practice of Qigong, and the various medical Qigong forms we teach at the Ling Gui International Healing Qigong School. We are happy to offer a number of deeply fulfilling certification programs for dedicated practitioners of Qigong, as well as public workshops for people who wish to learn a specific method. Since our schools opening in 1990, we have welcomed medical doctors, acupuncturists, massage therapists, physical therapists, chiropractors, yoga, and Taiji teachers. We have certified over 50,000 Qigong teachers in Europe and the US.

Seven-Day Qi Prescription
for this Unique Time

Learning to navigate during any time of our lives can be stressful. Right now, there is rapid change on every level of our being. As we move through this next phase of staying healthy, we need to commit to our practices for the well-being of ourselves, families, communities, and the world.
The healing and teaching of Master Liu He has enhanced the lives of over one million people around the world! Using her knowledge of ancient Taoist practices, Master Liu He tailored a seven-day Qi prescription for you to follow. Click Here To View
~~~~~~~~~~~~~~~~~~~~~~~~~~~~~~~~~~~~~~~~~~~~~~~~~~~~~~~~~~~~~~~~~
 *   *   *   *   *   *   *   *
Yi Jing and Hexagram for 2023 with Master Liu He-Livestream
July 10 @ 9:00 am

–

1:00 pm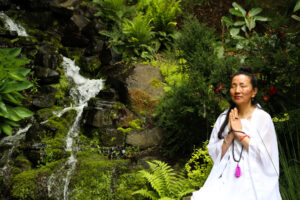 In this four-hour course, Master Liu He will guide you through the Yi Jing's philosophical use, and you will grasp an understanding of the changing lines. This course will introduce you to Hexagram #37 Community and the meanings of changing lines in order to apply them to real-life situations in 2023.

*   *   *   *   *   *   *   *
Full Program Enrollment for Summer Retreats

In-Person

with Dr. Liu Dong & Master Liu He
July 20

 – July 24
Enroll in the both Summer Retreats and receive 10% tuition reduction.
We are back to an IN PERSON Retreat for our July sessions!
We are planning to gather together in-person this summer at the Alton L. Collins Retreat Center! We look forward to this new place to gather!
The facilities provide a lodge type feel with outdoor spaces, a large lobby, library, and more!
*   *   *   *   *   *   *   *
Qigong Global Summit
Did you miss Master Liu He's interview at the Qigong Global Summit? Not a problem! It is now available to view via YouTube. 
She was honored to be among more than 30 leading Qigong

teachers, masters, and doctors in this year's Qigong Global Summit!
This interview is part of the Qigong Global Summit, a free online event. For more information, please visit https://qigongglobalsummit.com. This recording is a copyright of The Shift Network. All rights reserved.
~~~~~~~~~~~~~~~~~~~~~~~~~~~~~~~~~~~~~~~~~~~~~~~~~~~~~~~~~~~~~~~~
You may now find Master Liu He on Instagram and Facebook!
Every significant Qi Day, she will open another door and activate dimensional spaces with you. These Qi tips will be determined by the energy of the day/week/season and can provide you ways to strengthen your Qi, brighten your mind, and support a smoother and smoother way of living! Follow her on Instagram, @masterliuhe, to receive these gems!
~~~~~~~~~~~~~~~~~~~~~~~~~~~~~~~~~~~~~~~~~~~~~~~~~~~~~~~~~~~~~~~~
Some recent comments:
" Master Liu He's teachings sparkle with intelligence and relevance to our current times while being firmly rooted in a deep tradition. She is rare both as a female qigong Master and as a Master trained within the context of a traditional qigong family from China. While she holds many of the intricate methodologies of Chinese Energetic Medicine and Chinese cultural wisdom, she is also an innovator preparing us to live more aligned with the natural world even in the face of a hyper technological modernity. Her latest form she is sharing with us, The Super Magic Square, combines simple accessible ways to work with acupoints and elegant movements that yoke us to the stars in order to digest the overwhelming amounts of information our brains are subject to from the internet, social media and augmented reality devices which will be more and more a part of our daily life. Master Liu, with great kindness and enthusiasm leads us into the most powerful technology we own, our own body-mind-spirit. " – Liz W., Missouri
I just want to say WOW.
The Zhu You form is incredible, I mean I love all of Master Liu's classes but this is a different level. It feels very powerful. I love it. And I always feel so uplifted after a retreat.
And this one in particular, I was under a lot of stress and pressure from my company to get vaccinated and I was very resistant and I could feel this resistance in my body and weighing heavy on me. During the retreat after listening to Master Liu talk about the water, adaptation, flexibility, it suddenly disappeared. Sandrine E., France.
Really enjoyed today's class!
Liu He's ability to adapt to a new situation is already legendary (e.g., China to France to US!).  But watching her master the art of Qi-Zoom is awesome.  It is like having Liu He right here in my living room once/week. Feeling blessed. – Phyllis L., Montana

I put my hands in Jie mudra and the next thing I knew, I was waking up. I had fallen in to a deep sleep where I had had a dream that I was with friends and there was so much happiness, kindness, love and laughter! I don't even remember the last time I had a dream with laughter. I woke feeling happy, safe, peaceful, and relaxed in my body. My muscles were not filled with pain or tension like they typically were when I would awaken. I had a pervasive feeling through my entire being that "everything was going to be ok."I still have a sense of peace, happiness, and optimism that things are going to be ok. There is so much weight, and stress, and worry that has lifted! It feels phenomenal! – SC, California