Concentrating the Hun & Training the Po with Master Liu He-Livestream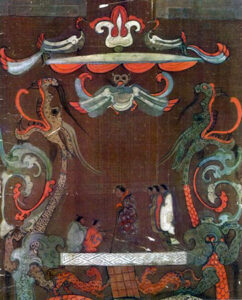 Concentrating the Hun: The spirit of the Liver (Ethereal Soul) is called the Hun. The Hun gives us sight in the day and dreams at night. It is responsible for our creative projects, plans, and dreams for the future. When practicing, this form decreases cloudy thinking and creates a sharp, clear mind to make unhesitating decisions in life.
Limiting and Training the Po: The (Corporeal Soul) Po of the lungs is similar to an animal spirit, controlling bodily rhythms and basic physical instincts. This spirit's primal impulses are behind the behavior patterns of infants. Sexual instincts are also controlled by the Po. The Po includes seven spirits that connect with the seven emotions: anger, worry, fear, excitement/joy, fright, sadness/grief, and anxiety. All emotions ultimately return to sadness/grief, the emotion connected with the lungs, as part of letting go. The Po and the development of the lungs are important when you are practicing this form. Practicing this form also takes us further, by working on reestablishing our connection to all the body's spirits. This work prepares us to continue life in the spiritual world after death.
What you will learn: 
FORM:  qigong form for your personal practice, this allows for self-healing and the ability to connect with qi and transmit
THEORY:  Chinese Medicine, Daoist Medicine (pertaining to the season, form, meridians, acupoints)
PHILOSOPHY:  Qigong philosophy, lifestyle practices – what is most beneficial for the season in regard to daily living
Each class varies and may also contain:
Nutritional practices – what is most beneficial to align with the seasonal Qi
Feng Shui/Astrology – utilizing the Qi associated with the year or season, Master Liu He provides practices to work with the Qi at a specific time
When enrolling, you will receive: 
E-Handout for the form prior to the class
Zoom Class Link for the real-time (live) online class
Class recording link to view for 4 weeks
Lecture Slide presentation link to download post-class
Front-row seat in your own home
Qi Transmission in your own home from Master Liu He
National Certification Commission for Acupuncture and Oriental Medicine: 10 PDAs are approved through NCCAOM for in the PE-CW category. You will need to attend live (in real-time online) to receive the PDA's.
CLASS DATES:  10 HOUR CLASS
Saturday, October 21, 2023 –  9:30am-1:00pm & 1:30pm-3:00pm Pacific
Sunday, October 22, 2023  – 9:30am-1:00pm & 1:30pm-3:00pm Pacific
Tuition:  $249 Early Registration paid by October 15, $260 after
Enroll in BOTH Concentrating the Hun & Training the Po + Infinite Life: Cycles of Birth & Death (December 2, 2023) – $299 (read more here)
Enroll below with the payment buttons or mail in a check (see below).
All tuition fees once paid are non-refundable, they are transferable to another workshop/class/retreat.
If Paying by Check: Download Registration Form and enclose with check.  Please email to advise us that you are mailing a check. Thank you. 
Whereas when Qigong is properly practiced, it is extremely beneficial and presents minimal risk to one's health, please consult your physician if you are in doubt of your capabilities or have special health concerns.
This class suited to: Acupuncturists, Massage Therapists, Chiropractors, Qigong Instructors, Yoga Instructors, Martial Arts Instructors, Reiki Practitioners, and other professionals. No prerequisites are needed.