Yi Jing and Hexagram for 2023 with Master Liu He-Livestream
July 10, 2022 @ 9:00 am

-

1:00 pm
Yi Jing (I Ching) Ancient Wisdom of the Chinese Classics
Registration Full!
Designated as one of the Chinese classics, the Yi Jing (I Ching), also known as the Book of Changes, provides a philosophy of change and that the cosmos is without a beginning or an end.
The book discusses cosmic patterns, the relationship between humans and nature, and the complexities of human life. This is done through the eight trigrams and 64 hexagrams. The eight trigrams represent the yin and yang Qi. The 64 hexagrams express the universe.
The book may be read as philosophy; however, it is often used for divination. It brings answers to your most profound questions and empowers you to make changes for the best outcome for yourself and the cosmos. There are many explanations for the lines and hexagrams. You could look at each hexagram relating to the yearly cycles. The bottom line is associated with the first part of the year and the top line at the end of the year. The lines may also represent the moon's phases (darkness to light) or your family (youngest to oldest).
In this four-hour course, Master Liu He will guide you through the Yi Jing's philosophical use, and you will grasp an understanding of the changing lines. This course will introduce you to Hexagram #37 Community and the meanings of changing lines in order to apply them to real-life situations in 2023.
 Hexagram 37 for the year 2023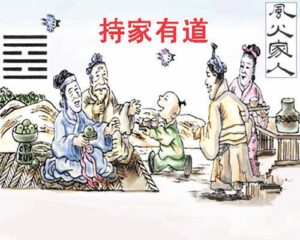 YiJing #37: Community
Wind trigram over Fire trigram
Sunday, July 10, 2022 – Live Stream Qi-Zoom
9:00am-1:00pm Pacific Time
$99 before July 3, 2022, after $119
This is a BONUS class when enrolling in the Qian Kun "Infinite Cosmos" Medical Qigong 3-day course! Click here for more info!
When enrolling, you will receive:
Recorded links of the sessions, available to view for three weeks.
Qi transmission in your own home from Master Liu He.
Lecture slide presentation post-class.
Enroll online below
Enroll-Early Reg $99
Enroll $119 after July 3
OR
If Paying by Check: Download Registration Form and enclose with check.
Whereas when Qigong is properly practiced, it is extremely beneficial and presents minimal risk to one's health, please consult your physician if you doubt your capabilities or have special health concerns.