Medical Qigong & Meditation to Nourish the Body & Soul with Dr. Liu Dong-IN PERSON
July 20, 2022

-

July 22, 2022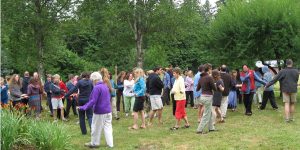 REGISTRATION CLOSES THURSDAY, JULY 7, 2022
We are back to an IN PERSON Retreat for our July sessions!
We are planning to gather together in-person this summer at the Alton L. Collins Retreat Center! We look forward to this new place to gather!
The facilities provide a lodge type feel with many outdoor spaces, a large lobby, library, and more!
Magnificent western red cedars grace the grounds. The natural forest setting as been preserved. Trails take you through the woods and along the streams that meander around the grounds. Our holistic chef makes sure your meals nourish your mind and body so you are able to focus on retreat.
The Alton L. Collins Retreat Center is dedicated to offering a safe, quality environment for growth and reflection for service in the world.  The center is nestled in a Pacific northwestern forest surrounded by majestic, moss-covered cedar, spruce, fir, hemlock and bigleaf maple.  The natural environment supports ferns, trillium, and salmonberry bushes covering the forest floor.
Join Dr. Liu Dong for a journey into the deep teachings found within the Ma Wang Dui tombs. The funeral robe depicts an ancient Medical Qigong form.
The Ma Wang Dui Animals form focuses on transformation of blood stasis by facilitating blood circulation, smoothing Liver Qi, and transforming emotions. Lectures will focus on the teaching of the pictures sewn onto the robe and Chinese/Taoist medical theory of blood stasis, diagnostic patterns, and how these forms can influence the blood.
Chan Meditation will also be presented. Chan Meditation is a personal internal journey, utilizing breath and visualization to renew your perspective!
National Certification Commission for Acupuncture and Oriental Medicine: 12 PDAs in PE-CW and 3 PDAs in PE are pending through NCCAOM for diplomats in acupuncture and oriental medicine.
This is a 15 hour retreat.
Dates: 
Wednesday, July 20, 2022:  9:00am-12pm & 3-6pm 
Thursday, July 21, 2022: 9:00am-12pm & 3-6pm
Friday, July 22, 2022: 9:00am-12pm 
Location:
Alton L. Collins Retreat Center
32867 SE Highway 211
Eagle Creek Oregon, 97022
Tuition for the 15 hour retreat:
Early Registration $425 paid by June 20, 2022 or $455 paid after June 20.
Choose one of the following additional fees (these charges will need to be paid with check or add 3% credit card fee):
A) On-site lodging (Single Room) and all meals (ARRIVE TUESDAY July 19 after 4pm-first meal dinner) – $531
B) On-site lodging (Double Room) and all meals (ARRIVE TUESDAY July 19 after 4pm-first meal dinner) – $435
C) Day Use Fee with 3 Lunches –  $85
D) Day Use Fee with 3 Lunches & 2 Dinners – $130
Once tuition payment received, you will be contacted via email to determine availability of your choices. Limited rooms available. Each room has a private bathroom and balcony/deck! 
Enroll online  or mail in a check(details listed below).
$425 Early Registration Enroll Here
$455 Full Registration Enroll Here
If Paying by Check: Download Registration Form and enclose with check.
ENROLL IN BOTH RETREATS AND RECEIVE 10% off tuition. Click Here for More Information 
All tuition fees once paid are non-refundable, transferable to another workshop/class/retreat for $80 fee. Covid cancellation policies will be posted at a later time. 
Covid protocols will be posted as we get closer to the retreat date. We are committed to your health and well-being and will abide by current protocols. More information to come. 
These classes are suited for:   Acupuncturists, Massage Therapists, Chiropractors, Qigong Instructors, Yoga Instructors, Martial Arts Instructors, Reiki Practitioners,  and other professionals. No prerequisites needed.
Whereas when Qigong is properly practiced, it is extremely beneficial and presents minimal risk to one's health, please consult your physician if you are in doubt of your capabilities or have special health concerns.