Eight Extraordinary Vessels Qigong with Master Liu He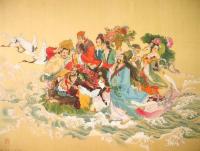 REGISTRATION CLOSES Saturday, July 1, 2023

IN-PERSON Retreat for our July sessions!
We are planning to gather together in person this summer at the Alton L. Collins Retreat Center! We look forward to gathering with you!
The facilities provide a lodge-type feel with many outdoor spaces, a large lobby, library, and more!
Magnificent western red cedars grace the grounds. The natural forest setting has been preserved. Trails take you through the woods and along the streams that meander around the grounds. Their holistic chef makes sure your meals nourish your mind and body so you are able to focus on retreat.
The Alton L. Collins Retreat Center is dedicated to offering a safe, quality environment for growth and reflection for service in the world.  The center is nestled in a Pacific northwestern forest surrounded by majestic, moss-covered cedar, spruce, fir, hemlock, and big leaf maple.  The natural environment supports ferns, trillium, and salmonberry bushes covering the forest floor.
Join Master Liu for this EXTRAordinary retreat!
These eight vessels begin at the moment of conception, create an energy field within which the embryo grows, and ultimately give rise to the meridian system of our bodies. Practicing Eight Extraordinary Vessels Qigong accesses healing at the level of our prenatal Qi, similar to our DNA, while bringing us back to a time of wholeness before birth, and linking us to our present life for developing our potential.
What you will learn: 
FORM:  qigong form for your personal practice, this allows for self-healing and the ability to connect with qi and transmit
THEORY:  Chinese Medicine, Daoist Medicine (pertaining to the season, form, meridians, acupoints)
PHILOSOPHY:  Qigong philosophy, lifestyle practices – what is most beneficial for the season in regard to daily living
Each class varies and may also contain:
Nutritional practices – what is most beneficial to align with the seasonal Qi
Feng Shui/Astrology – utilizing the Qi associated with the year or season, Master Liu He provides practices to work with the Qi at a specific time
When enrolling, you will receive
Lecture on the Eight Extraordinary Vessels
Recording of Master Liu He practicing the form, available to view for 4 weeks after the retreat
Qi transmission from Master Liu He
This is a 15-hour retreat.
Dates: 
Tuesday, July 18, 2023: 3-6:30pm
Wednesday, July 19, 2023: 9am-1:00pm & 3-6pm
Thursday, July 20, 2023: 8:30am-1:00pm
On Thursday, we will record Master Liu He performing the Eight Extra Ordinary Vessel Form. You will then receive a recording link to view for 4 weeks. 
Location:
Alton L. Collins Retreat Center
32867 SE Highway 211
Eagle Creek Oregon, 97022
Tuition for the 15-hour retreat:
Early Registration $425 paid by June 18, 2023, or $455 paid after June 18. YOU WILL NEED TO ENROLL BY JULY 1 (the retreat center requires final notice by then).

Choose one of the following required additional fees (these charges will need to be paid with a check or add 3.5% credit card fee):
A) On-site lodging (Single Room, 2-nights) and all meals (ARRIVE Tuesday, July 18 after 1:30pm-first meal dinner) – $390 (SOLD OUT – WAITLIST AVAILABLE)
B) On-site lodging (Double Room 2-nights) and all meals (ARRIVE Tuesday, July 18 after 1:30pm-first meal dinner) – $315 (SOLD OUT – WAITLIST AVAILABLE)
C) Day Use Fee with 2 Lunches –  $70
Once tuition payment is received, you will be contacted via email about your options for the above list. Limited rooms are available. Rooms are assigned in the order that we receive payments. Each room has a private bathroom and balcony/deck!

ENROLL IN BOTH RETREATS AND RECEIVE 10% off tuition. Read more here.
All tuition fees once paid are non-refundable. It is transferable to another workshop/class/retreat for an $80 fee. 
National Certification Commission for Acupuncture and Oriental Medicine: 15 PDAs are approved through NCCAOM for diplomats in PE-CW. 
IF INTERESTED IN STAYING ONSITE, PLEASE CONTACT US PRIOR TO ENROLLING. 
Enroll Here $425 Early Registration
If Paying by Check: Download Registration Form and enclose with check.
Please advise us via email if you are mailing in payments.

Interested in both Retreats? Enroll in both retreats and receive 10% of tuition! Click Here for more information…

Whereas when Qigong is properly practiced, it is extremely beneficial and presents minimal risk to one's health, please consult your physician if you are in doubt of your capabilities or have special health concerns.
This class is suited to: Acupuncturists, Massage Therapists, Chiropractors, Qigong Instructors, Yoga Instructors, Martial Arts Instructors, Reiki Practitioners, and other professionals. No prerequisites are needed.