Xiu Zhen Tu Diagram of the Cultivation of Reality and Qigong with Master Liu He – Livestream
April 15 @ 9:30 am

-

3:00 pm
Diagram of the Cultivation of Reality (Xiu Zhen Tu) and Qigong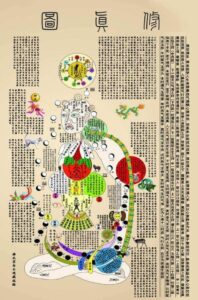 Xiu Zhen
 means "to practice and learn the way of the truth." It is a Daoist diagram of the human body illustrating the principles of Neidan "Internal alchemy", Chinese astrology, and cosmology.
Many internal landscaping teachings including this map show: 24 Jie Qi, 28 Constellations, 30 Lunar phases, Thunder Rites, and Golden Elixir.
In this 5-hour class, the focus will contain:  24 Jie Qi, Solar Terms, and 30 Lunar phases traveling in the body. You will learn a qigong form to sync with this system.
When enrolling, you will receive
Recorded links of the sessions, available to view for 3 weeks.
E- handouts prior to class.
Qi transmission in your own home from Master Liu He.
Lecture slide presentation post class.
National Certification Commission for Acupuncture and Oriental Medicine: 5 PDAs are approved through NCCAOM for diplomats in PE-CW. You will need to attend live online to receive the PDAs. 
Date and Times:
Saturday, April 15, 2023
9:30 am-1:00 pm and 1:30 pm-3:00 pm (5 hours)
Tuition:  $150
Enroll online below or mail in a check (details listed below).
This course is the final class of the Spring Retreat featuring Qi Men Dun Jia (no need to enroll if you were part of the Retreat). 
Tuition payments are non-refundable, however they may be applied toward another course/retreat.
Whereas when Qigong is properly practiced, it is extremely beneficial and presents minimal risk to one's health, please consult your physician if you doubt your capabilities or have special health concerns.
These classes are suited for:   Acupuncturists, Massage Therapists, Chiropractors, Qigong Instructors, Yoga Instructors, Martial Arts Instructors, Reiki Practitioners,  and other professionals. No prerequisites are needed.