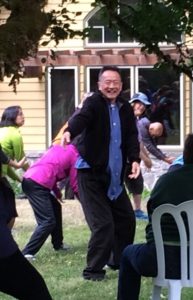 Born in the Chinese province Ji Lin, comes from a family in which Qigong has been practiced from generation to generation. In early childhood he developed serious pulmonary tuberculosis. Each morning at dawn, his grandfather led him up into the mountains to practice Tai Yang Gong or Sun Qigong, and within a short time, his tuberculosis was completely healed. For this reason, Liu Dong has dedicated himself to Qigong.
Dr Liu Dong received his medical diploma in 1987 from the Chinese Faculty of Medicine in Beijing. Since then, he has continued his research in the field of Medicine of Energy and Healing Qigong. He has worked with experts from China, Japan, America (e.g., Harvard School of Medicine) and France (e.g., National Health and Medical Research Institute in Marseille and Marmottan Hospital in Paris) and has completed many experiments and studies to show that Qigong can be very helpful in healing such problems as diseases of the immune system, allergies, depression, and hypertension and published several of books and articles in these areas. He also treated some powerful political personages such as Deng Xiao Peng.
After coming to France in 1989, he founded the LingGui Chinese Medicine School and opened a medical clinic, both in Paris. He founded Liu Dong Method Qi Gong, which is being passed on in many countries all over the world.
At present, Dr. Liu Dong is associated with Dr. David of the Pasteur Institute in France, where he has completed research on allergies, specifically treating diseases associated with allergies with the application of Chinese Medical herbs. As a professor of Chinese Traditional Medicine, he teaches in the University de Bubigny in Paris, France and also in the University of La Sapienza in Rome, Italy. As well, having received a visa to teach and conduct research in the U.S. under the special visa status given to persons of extraordinary ability in the sciences, arts, education, business or athletics, he is teaching Medical Qigong workshops throughout the United States and well as in the Ling Gui School based in the Pacific Northwest.
Books
Rejuvenation Through Vital Breathing, Editions Jilin Wen Shi, China, 1988
ABC du Qigong, Edition Jacques Grancher, Paris, France, 1997
Qigong – La Voie du Calme, Edition Jacques Grancher, Paris, France 1998
Qigong, Co-authored with Dr. Caterina Martucci, Raffaello Cortina Editor, Milan, Italy, 2003
Stop The Pain With Chinese Medicine, in preparation, Paris, France, 2003
The Mudra of Buddha, in preparation, publication USA, 2003
Articles
Chinese Nature review, 1981, volume 4, n 6
Science and Electronic Techniques, 1981, n 8
Beijing evening newspaper, June 10, 1981
Chinese Journal of Medicine, 27 September, 1984
Japanese Review Journal of Health, 1989, n 234
Chinese Journal of Experimental Clinical Immunology, 1989, volume 1, n 1 and 2
Qigong In China, 1998, n 3
Check Dr. Liu Dong's website for his
available on-line classes, individual sessions, and in-person scheduling!
GERMANY RETREAT 2021

Retreat dates with Dr. Liu Dong:  March 29, 2021-April 1, 2021 in Germany, Bad Rothenfelde, Osnabrück (nearby airports are: FMO / DUS/ HAJ / HAM and BRE > Frankfurt is 3 hours by train)
A UNIQUE OPPORTUNITY TO EXPERIENCE A RETREAT IN GERMANY! USE IT! 
Daoist warm-up exercises + self-massages 
Fire + cloud meditation

Daoist medicine in theory and practice