Guardian Lions Qigong for Wei Qi, Ying Qi, & Zang Qi with Master Liu He Livestream
September 24 @ 10:00 am

-

October 29 @ 12:30 pm
Tie Yi "Guardian Lions" Qigong is a form to strengthen the force of the 3 body layers. (15 hour class series)

Unlock and Restore Your Endocrine System
Chi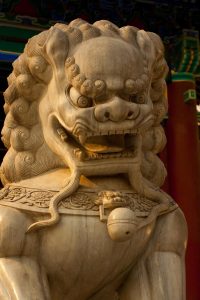 nese Guardian Lions, also called Fu dogs, are depicted as intimidating, mythical creatures seen in many forms of art ranging from architecture to tattoos. The Lions symbolize prosperity and success, as well as guardianship. They are often used at the front doors of homes and buildings and are considered a Feng Shui cure. These Fu Dogs offer protection and are usually used in pairs to represent both yin and yang.
The male Yang Fu Dog is holding a globe under his right paw, which signifies control over his domain and protection of his home. The female Yin Fu Dog is holding a cub under her left paw, signifying strong maternal protective instincts.
Master Liu He has worked with this form to develop mudras, mantras, and movements to deflect (ward off), protect ourselves from negative influences, and enhance our overall health. This deep level of self-care is very important for this year.
Outside Layer:Wei Qi (defensive qi ), this Qi circulates on the surface of the body. Each time we practice this form, you increase your Qi army, helping you fight negative qi. Master Liu He frequently states that fighting an illness is like fighting a war. Only when your Qi  army is strong, the enemy qi can not come in and destroy you.
Middle Layer: Ying Qi (Blood Qi), this Qi circulates in your bloodstream. By practicing this form, you first release blood stagnations and blockages, then flush away the free radicals, while making your red and white blood cells stronger.
Inside Layer: Zang Qi (Organs Qi), this Qi circulates around and inside your internal organs. By practicing this qigong, your five solid organs become healthier and stronger to restore the network between them. This restoration then heals internal and external relationships and resets your autonomic nervous system.
What you will learn: 
FORM:  qigong form for your personal practice, this allows for self-healing and the ability to connect with qi and transmit
THEORY:  Chinese Medicine, Daoist Medicine (pertaining to the season, form, meridians, acupoints)
PHILOSOPHY:  Qigong philosophy, lifestyle practices – what is most beneficial for the season in regard to daily living
Each class varies and may also contain:
Nutritional practices – what is most beneficial to align with the seasonal Qi
Feng Shui/Astrology – utilizing the Qi associated with the year or season, Master Liu He provides practices to work with the Qi at a specific time
What you will receive: 
E-Handout for the form prior to the class
Zoom Class Link for the real-time (live) online class
Class recording link to view for 2 weeks
Lecture Slide presentation link to download post-class
Qi Transmission in your own home from Master Liu He
Class Dates:  6 Class Series (15 hours)
Sundays:  September 24, October 1, 8, 15, & 29, 2023
Saturday: September 30th, 2023 
10:00am-12:30pm Pacific Time
National Certification Commission for Acupuncture and Oriental Medicine: 15 PDAs are approved through NCCAOM for diplomats in the PE-CW category (this will be 2.5 hours per class attendance). You will need to attend live online (in real-time) to receive the PDAs. There are 2 PDA's awarded for each class date.
Tuition:  $299
All tuition fees once paid are non-refundable, they are transferable to another workshop/class/retreat.
Enroll below with the payment buttons or mail in a check (see below).
Please email to advise us that you are mailing a check. Thank you. 
Whereas when Qigong is properly practiced, it is extremely beneficial and presents minimal risk to one's health, please consult your physician if you are in doubt of your capabilities or have special health concerns.
This class suited to: Acupuncturists, Massage Therapists, Chiropractors, Qigong Instructors, Yoga Instructors, Martial Arts Instructors, Reiki Practitioners, and other professionals. No prerequisites are needed.