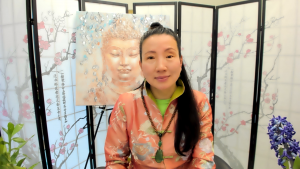 Master Liu He's Qi Zoom classes are going so well! You not only learn a form, theory, and philosophy, she also transmits her healing Qi to you. She has been working with clients worldwide for many years via live stream. Some recent comments:
THANK YOU.  No words are able to adequately describe the profound positive impac
t the Spring Qi Detox class proffered.
I am still processing the pearls of wisdom Master Liu He bestowed…very grateful!
Thank you all for your beautiful, healing, powerful Qi and the efforts you put forth to bring these classes to fruition and aid in all of us emerging in 2021 stronger, wiser and healthier.  I look forward to sharing your wisdom and techniques with my patients. I am thrilled all of you continue to offer your time and services to bring good Qi to all of us and I wish you many, many, many, many more years ahead. K. Carter. LAc, Kentucky.
The 1000Buddha eyes is the most incredible qigong. Thank you for letting me join. The level of healing is exceptional. Thank Master Liu for sharing it with us and her energy.  Bernice S, Texas
*Really enjoyed today's class!
Liu He's ability to adapt to a new situation is already legendary (e.g., China to France to US!).  But watching her master the art of Qi-Zoom is awesome.  It is like having Liu He right here in my living room once/week 🙂 Feeling blessed 🙂 – Phyllis
*That was so fabulous! I feel so comfortable with and inspired by Master Liu He. I had so much fun today! Courtney C., California
*This last form, Yin Yang Harvest, is wonderful.  I feel so balanced and stable and calmly energized after practicing.  Thank you so much!  I have used the zoom recordings to practice and especially like the "upgrading" chanting at the very beginning.  I don't know how it is possible but I still feel your energy even from the zoom recording.  I love it.  I didn't think that I'd be able to come in person to anymore worskshops but now with these Internet classes, my qigong practice has been revived…and I've been rejuvenated!    I am so grateful!  – Lizzie S. Seattle
I am so enjoying my classes via Zoom. It has been a wonderful and continued healing time for me. My last set of cancer tests just came back and are the best results I have had yet. My cancer team of doctors are thrilled. Of course, I am too! I attribute Qigong as a big part to my ongoing success at keeping me healthy. Debra S. Idaho. More Testimonial
---
Summer Immersion I- Medical Qigong
Medical Qigong Eight Extraordinary Vessels
July 23

 – 

August 5
---
Summer Immersion II- Medical Qigong
Tai Yi Noble Star Qigong
August 7

 – 

August 12
---
Mien Shiang – Face Reading

September 18, 2021