Summer Retreats or Immersion Opportunities for 2022!
July 20-22, 2022 with Dr. Liu Dong
15 hour IN-PERSON Retreat 
Medical Qigong & Meditation for Nourishing the Body & Soul 
The Ma Wang Dui Animals form focuses on transformation of blood stasis by facilitating blood circulation, smoothing Liver Qi, and transforming emotions. Lectures will focus on the teaching of the pictures sewn onto the robe and Chinese/Taoist medical theory of blood stasis, diagnostic patterns, and how these forms can influence the blood.
Chan Meditation will also be presented. Chan Meditation is a personal internal journey, utilizing breath and visualization to renew your perspective

July 22-24, 2022
15 hour IN-PERSON RETREAT with Master Liu He
Magic Square Taiji Fan & Nourishing Yin Meditation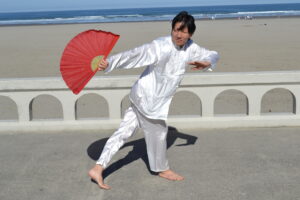 Magic Square Taiji Fan is a practice for working with wind. People tend to experience too much anger creating internal wind, some express while others hold inside. If you express your anger to much, this wind will chase your Qi out resulting in exhaustion. If you keep the anger inside, the internal wind can disturb your mental and physical health. With this practice you will learn how to use the fan as a weapon to lead the wind into a positive direction to enhance your health.
You will also learn Nourishing Yin Meditation to supplement the yin energies!
_______________________________________________________________
ONLINE Qi-Zoom Summer Immersion with Master Liu He 
3-Day Medical Qigong Course : Zhu You Shu
Embrace over 5000 years of powerful healing modalities! (This course covers techniques different from the February retreat)

13 hour course + 4 hour bonus class
Zhu You Shu is often forgotten in Chinese medicine that was born in ancient times and is a mysterious method founded in the traditional medicine of the homeland.
Zhu You's treatment is an important part of  Chinese medicine. You will find reference to Zhu You's 13 subjects/methods of treatment in the ancient text, "Huang Di Nei Jing".
_____________________________________________________________
ENROLL in both IN-PERSON RETREATS with Dr. Liu Dong and Master Liu He
Read all about this amazing opportunity here
(special tuition rate )!
~~~~~~~~~~~~~~~~~~~~~~~~~~~~~~~~~~~~~~~~~~~~~~~~~~~~~~~~~~~~~~~~~~~~~~~~~~~~~~~~
Here are some comments from students about offerings on Zoom: 
🙂 My warmest thanks to Master Liu He. This was my first Qi Gong course and I feel very fortunate to have it taught by such an amazing Master! She has such wonderful energy (of course!) and it was such a delight to spend 3 days in her energy field! Two thumbs up and five star all the way! Jill , BC, Canada
 🙂 The class was fantastic, Master Liu He's wisdom and mastery of qigong is palpable, even in a remote setting, as is her joy in the practice. I look forward to many more classes working with her! Danielle ., Oregon
 🙂 The Zoom for Qi Gong, was surprisingly powerful and successful. Cal M, Idaho
 🙂 Thank you for all you do, the workshop and Master Liu He were phenomenal!!! Marisol M. Master Teacher, Virginia