Description
2023 Talismans-SOLD OUT
Water Rabbit Year January 22, 2023-February 9, 2024
Unique, hand-drawn Talismans created and infused with Qi by Master Liu He.
According to the Nine Star Flying Feng Shui, the Northwest and Southeast sections will house troublesome stars this year. It is best to not spend too much time in these sections of your home.
In Master Liu He's practice of Qigong and meditation, she gathers the energy of the universe to hand draw each of the talismans and prepare the Feng Shui packet for each section. These are made to order and infused with Qi. 
The history of Fu (Daoist charm or talisman) can be traced back over 5000 years. The symbolism used contains the secrets and power of the universe. Many Daoist and Feng Shui Masters can create "Fu" to help people clear negative Qi out of their bodies or homes.
In Chinese we often say:
By looking at one Fu, things go smoothly
for you,
By owning one Fu, happiness comes along with you
By keeping one Fu, longevity resides within you
Wishing you a Happy Life with Qi.
You will need to place each bundle in its respective areas (Northwest or Southeast). Place them on a shelf or whatever you have in that area. Do not place them on the floor.
Northwest Talisman:  This year's packet is an 8 ½ " x 12" Gold Folder. Inside there are three hand-drawn talismans and one talisman with a golden charm. Special handling, do not place on the floor. You can display or close the folder and place in the NW section. A small yellow Talisman card can be carried with you every day and once home,  place it back in the folder to charge for the next day.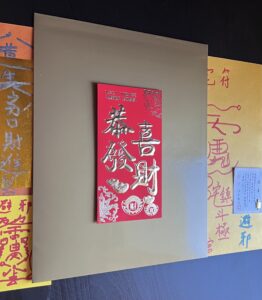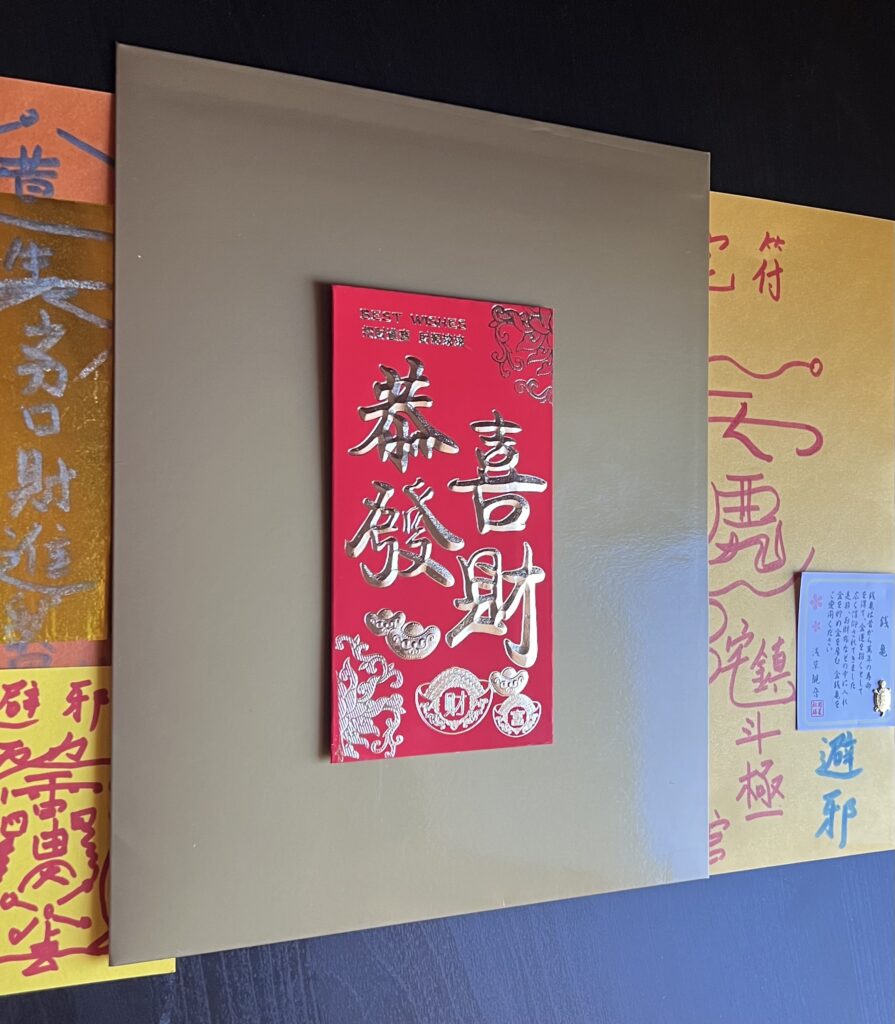 Southeast Talisman: This year's packet is a small box containing a talisman with a special charm wrap.  The star in this section for 2023 influences arguments, the design on the socks is for Good Fortune and the design on the sole is to signify rising above if in argument/conflict. Special handling, keep the packets closed and do not open the talisman boxes. Master Liu He infuses the talismans with Qi and you need to keep those intact. Best to wear the Red socks on January 21,22,23 2023!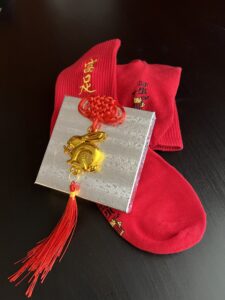 The talisman bundles are good to use for one year. At the end of the year, you may unpack them, burn the talisman, dispose of them how you see fit, or place the talismans in an album/book (place in the North) and keep the coins in a copper/metal bowl in the North section of your home.
Below are some helpful tips on how to use and place the item(s) in your home.
First, you will need to draw a diagram of your home. A home sketch will work fine.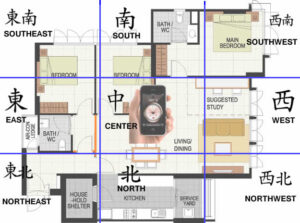 Once you have your diagram, draw the grid (9 sections/square-see diagram below) and find the directions for the grid sections. Master Liu He's feng shui teachings rest in the Nine Flying Star Feng Shui method.
This drawing is from the website link
$168 for both talismans.
Mailing/Handling to the United States $15
Mailing/Handling Internationally $25
Buyers are responsible for any customs and import taxes that may apply. We are not responsible for delays due to customs.