Winter Begins! "Tune-up" your Kidney Yin Energy with Master Liu He
Purchase the recorded class below!
Full Registration!
Please contact us to be placed on the waiting list.
Master Liu He teaches us that to fully enjoy the powers of the season is to surrender and learn what it has to offer. Following the winter cycle Taoist life suggestions, allows our body's water to flow and the water can show us many answers.
Reset your mind, body, and spirit to the Winter season!
Date:  November 8th, 2021, Live Stream Qi-Zoom Winter Meditation
Time: 7:15 AM – 9 AM Pacific Time
The energy of winter is deep and potent, Taoist say that winter is the season for inward reflection; a time to conserve and replenish.
Wherever you fall in the transition to the cold winter months,  Medical Qigong and Chinese Medicine support the body, mind, and spirit in the midst of change. In preparation for winter, our focus turns to strengthening the water element's organ, the Kidneys and Urinary Bladder. When Water is out of balance, fear, anxiety, kidneys, urine bladder, and joints become an obstacle to movement. Therefore kidney Qi can be also easily depleted.
The wisdom of water is to flow.  Water moves effortlessly and takes the exact form of whatever contains it. A balanced water element is able to move smoothly through the season with strength, courage, and willpower. There's a sense of flow and ease, and an alignment to one's purpose or destiny.
When enrolling, you will receive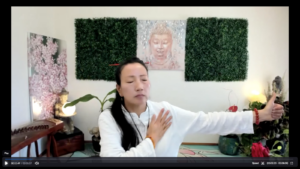 5 day winter food plan to be used the first 5-days of Winter, created by Master Liu He.

Recorded links of the sessions, available to view for 2 week.
Qi transmission in your own home from Master Liu He.
Front row seat in your own home.

Lecture slide presentation post class.
Tuition: $39
Pay online below
Or
If Paying by Check: Download Registration Form (here) and enclose with check.
Purchase the recording with the link below. You will receive: 
Zoom Class Recording Link for 4 weeks
5-day food plan
Download link for slide presentation
No prerequisites needed.Whereas when Qigong is properly practiced, it is extremely beneficial and presents minimal risk to one's health, please consult your physician if you are in doubt of your capabilities or have special health concerns.