Summer Immersion I – Medical Qigong Eight Extraordinary Vessels with Master Liu He
July 23, 2021

-

August 5, 2021
Join Master Liu He for our Medical Qigong Summer Immersion I
Live Stream Qi-Zoom! 21 Hours
Registration full
Eight Extraordinary Vessels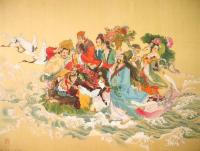 These eight vessels begin at the moment of conception, create an energy field within which the embryo grows, and ultimately give rise to the meridian system of our bodies. Practicing Eight Extraordinary Vessels Qigong accesses healing at the level of our prenatal Qi, similar to our DNA, while bringing us back to a time of wholeness before birth, and links us to our present life for developing our potential.
July 23, 24,25, August 5, 2021 (9 am – 1 pm PT)
July 27,29,31, August 2,4, 2021 (7am-8:00am PT)
NCCAOM 16 PDA AOM category, must attend live online to recieve the certificate.
When enrolling, you will receive
Recorded links of the sessions, available to view for 3 weeks.
E- handouts for each form prior to class.
Qi transmission in your own home from Master Liu He.
Front row seat in your own home.
Tuition: $399 before July 15, after $499
Enroll in both Summer Immersion I & II  for a Special 21-Day Program. Read More Here!
This class suited to:  Acupuncturists, Massage Therapists, Chiropractors, Qigong Instructors, Yoga Instructors, Martial Arts Instructors, Reiki Practitioners,  and other professionals. No prerequisites needed.Whereas when Qigong is properly practiced, it is extremely beneficial and presents minimal risk to one's health, please consult your physician if you are in doubt of your capabilities or have special health concerns.