Internal Landscaping for the Year of the Ox 2021 – Live Stream with Master Liu He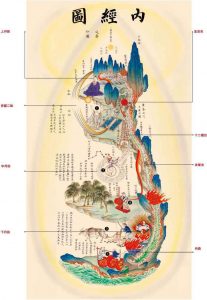 *** Taste Bank ***
Purchase the recording below. You will have video streaming access for 4-weeks!
Registration Full – Contact Us to be Placed on the Wait List
 Maximize Your 9000 Taste Buds for a Full-Flavored Life
The original Inner Landscape map is found on the walls of a building in the Abbey of the White Cloud (Baiyun Guan) in Beijing. It depicts a complex drawing which holds many longevity and health cultivation secrets of the Taoists. The diagram illustrates the human body interlaced with mountains, rivers, forests, paths and stars. This scroll is a unique study tool for all followers and  practitioners of meditation and health cultivation.  The Inner Landscape  shows practitioners in a very abstract way of all necessary points in the human's body and their roles in meditation practice.
In this 5-hour class, Master Liu He uses lecture, meditation, and acupoint activation to support your inner landscape and cultivate your inner body. This is a prime intention for the Year of the Metal Ox (February 11, 2021 to January 31, 2022).
Saturday February 27 (10:00 am-1:30pm and 2:30 pm-4:00 pm PT)
Class fee: $99 before February 10, after $119
This is a free BONUS class when you enroll in the 3-day intensive February 12-14, 2021!
For registration, download the form below and mail in with your tuition or pay on-line via Square below.
All tuition fees once paid are non-refundable, transferable to another workshop/class/retreat for $80 fee.
When enrolling, you will receive
Recorded links of the sessions, available to view for 1 week.
Qi transmission in your own home from Master Liu He
Front row seat in your own home
Whereas when Qigong is properly practiced, it is extremely beneficial and presents minimal risk to one's health, please consult your physician if you are in doubt of your capabilities or have special health concerns. Material presented is for educational purposes only.  The information contained on this site and in the live-stream class is not intended to diagnose, treat, or otherwise intervene in any medical condition. ALWAYS seek help from a licensed medical professional for any health condition. Individual results may vary.